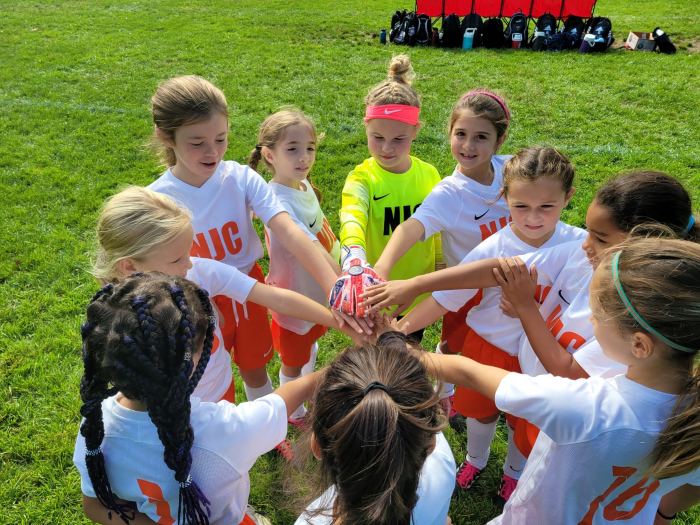 Girls Summer Soccer Camp
As summer approaches, many parents scramble to find ways to keep their kids active without the daily responsibility of school. Instead of leaving your child to their own devices at home, register them for one of NJ Crush Elite Girls Soccer Club's summer camps. Our soccer camps are designed for girls in Bergen County, NJ. This exciting soccer club offers numerous opportunities to practice and play, but also teaches an array of life skills they'll take with them for years to come. Learn more about participating in one of our summer camps.
What to Expect From Our Soccer Summer Camp
When your daughter joins our soccer club for the summer, you can expect a variety of things—but most of all, you can expect your child to grow as an athlete. Our soccer club is split into groups based on age, and each coach takes an individualized approach to every athlete. Our summer campers have the opportunity to practice key skills, collaborate with teammates, play on the field, and most of all, have fun and make friends. Have questions about our upcoming summer soccer opportunities? Get in touch based on your child's age:
Focus on a Range of Physical Skills
Our girls' soccer camp is designed with athleticism in mind. After all, our organization's goal is to empower girls and develop elite female student athletes. Our programs focus on a wide range of traits, and many times, participants can gear their program to a training specialization. Some girls concentrate on speed and agility, while others choose activities that emphasize strength and power. Each camper will work with their coach to decide which skills will most help them grow as an athlete.
Girls' Soccer Teaches Life Skills, Too
Sports like soccer aren't just about learning to score a goal. While our summer campers will certainly pick up a thing or two about soccer, they're just as likely to come away with a slew of life skills. Sports teach us the importance of hard work, collaboration with peers, and much more. Here are just a few of the traits students hone when they regularly participate in sports:
● Teamwork
● Strong work ethic
● Self-discipline
● Focus and concentration
● Meeting a challenge
Dedicated to Serving Student Athletes
At NJ Crush Elite Girls Soccer Club, we strive to organize summer camps that meet the unique needs of female student athletes. We work hard to attract and retain the top coaches for all age groups and aim to offer comprehensive training to our players. Our team hopes players stick with us for many years and take advantage of our fast pace, professional learning environment, and passion for soccer.
Register for a Summer Soccer Camp Today
We're always welcoming new players to the NJ Crush Elite Girls Soccer Club family! If you or your daughter are interested in participating in an upcoming summer camp, don't hesitate to let us know. Our team is here to answer your questions, and we'll ensure your child is placed with the correct age group and skill level. Registration is open—sign up today!